Traveling to Japan was definitely a bucket list item for me and my friends (and I'm sure to a lot of people). It is a worth-visiting travel destination because of its fascinating contrast of tradition and contemporary, and its prominence worldwide for anime, high-end technology, video games, and [my personal favorite] mouthwatering cuisine.
But traveling to Japan for the first time can be intimidating to foreign nationals who need a tourist visa to enter the Land of the Rising Sun. As an Overseas Filipino Worker (OFW) in Malaysia, and a Philippine passport holder, I also had to undergo the same process of obtaining a visa. And it's not as daunting as it sounds!
Here's my curated guide on how to obtain a tourist visa for foreign nationals working in Malaysia. If you're on a short social visit pass such as tourist, short-term business traveler, or foreigner transiting in Malaysia, this article is not for you. Some countries and regions are exempted from applying for a Japanese tourist visa. You may check here.
Non-residents of Malaysia who require visas to enter Japan must obtain their visas at a Consulate or Embassy of Japan in their home countries.
If you are an OFW with a Malaysia working visa and planning to have a holiday visit to Japan, please continue reading.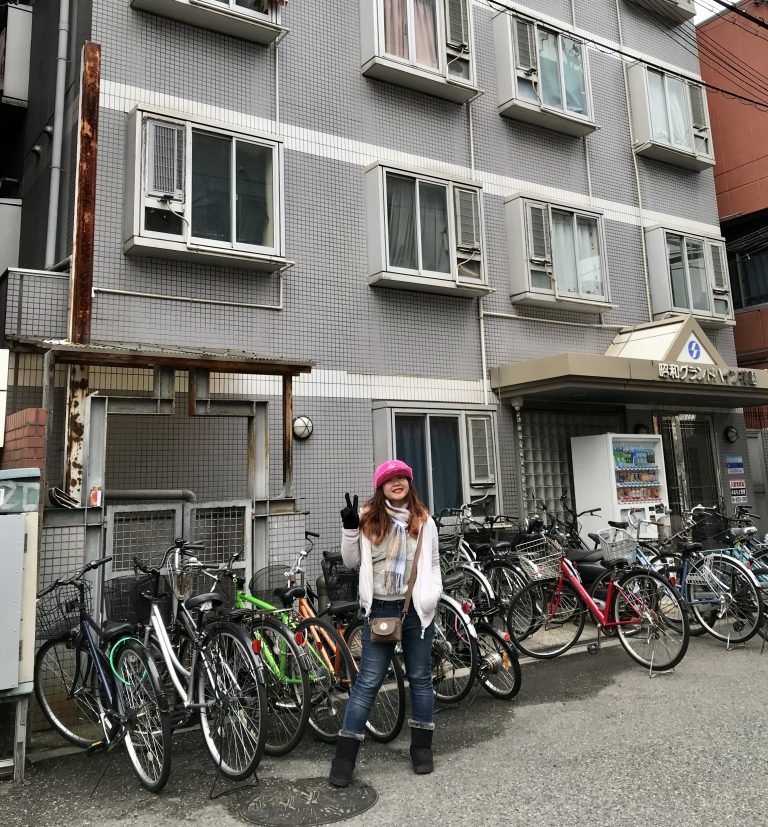 REQUIREMENTS
Original valid passport with at least 2 blank pages and validity of at least 6 months beyond your departure date. Bring a photocopy of the bio page.
Valid Malaysia working visa (original and photocopy) with a validity of not less than 6 months upon application. If your working visa is valid for less than 6 months during the application date, I suggest that you request a letter from your company HR specifically mentioning that your visa/contract is being renewed yearly.
Completed visa application form. Must be signed and no field left blank. If the question doesn't apply to you, you may put "N/A." (download here)
One (4.5 x 4.5cm) colored photo with white background, pasted on the application form.
Schedule of stay form. Fill this out with tentative arrival date, departure date, tentative daily travel plan in detail, and accommodation information such as hotel name, address, and phone number. (sample form here)
Applicant's latest 3-month personal bank statement in Malaysia. The bank statement must be the original certified true copy by the bank with the bank's stamp and officer's signature, account holder name, account number, latest 3 months transactions and current balance. The embassy won't accept the statement without the official stamp of the bank. (Note: There is no minimum amount required on the bank statement. They just want to see that you have a regular stream of income being transferred to the bank account.)
Original Company letter (COE). This should state your position, period of service, and details of the trip (e.g. date, purpose, and length of stay). As mentioned in requirement #2, if your working visa has less than 6 months validity, I suggest that you ask your HR personnel to mention in the letter that your visa/contract is being renewed yearly. Company letter should be printed on company letterhead with the original signature of the person-in-charge and company stamp. Please note that scanned/email copy/photocopy of company letter and a digital signature are not acceptable.
The requirements are pretty straightforward, right?
Now, here are some important points you need to note.
You must apply in person. If you cannot submit/collect the visa personally, an original authorization letter signed by yourself is required for submission and collection.
If you already booked return flight tickets and accommodation, you may submit them along with other requirements. Please be advised though that confirmed flight tickets and hotel bookings are not compulsory during visa submission. However, Consul might request for tentative flight or hotel booking after submission of application. Keyword: TENTATIVE. It is advised not to purchase confirmed tickets or hotel bookings in advance which may become unusable due to the delay or denial of a visa.
All photocopies must be on A4 size paper. Do not staple the documents. Arrange them all accordingly, on top should be the passport and follow the sequence requirement as listed above. Documents submitted will not be returned.
VISA FEES
Visa fees may differ by nationality and visa type. Payment must be made at the time of collection of visa in CASH and in the EXACT AMOUNT. Personal checks, credit/debit cards, and electronic payments are NOT accepted. You will not be required to pay visa fees if the visa is not issued.
Philippine passport holders do not need to pay tourist visa fees. Hurray! Citizens of the following countries are exempted from paying visa fees.
All other nationalities are required to pay a fee for visa issuance. Visa application fees are listed here.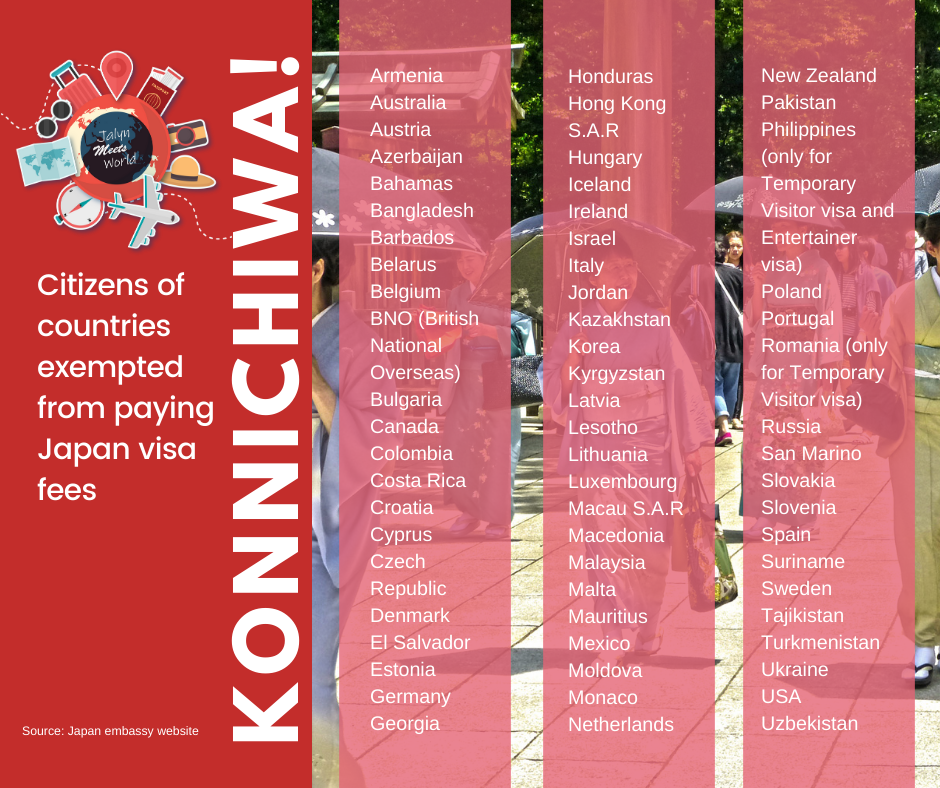 THE PROCESS
Once you have gathered all the necessary documents, the application has to be submitted to the office which covers your current residential area. Please check the area of coverage below for the submission of the visa.
Anyways, since the Japan Embassy here in Kuala Lumpur doesn't require an appointment, all I had to do was walk-in. Their office in KL is open from 8:30 am – 12:00 pm and 2:00 pm – 4:00 pm, Mondays-Fridays (except holidays). I went there with all my documents ready, got my queue number at the counter, and waited for my turn. Upon submission of the requirements, I was given a slip with the date of passport collection. And that's it! There's no interview needed. It's a hassle-free process as long as all your documents are complete.
THE WAITING
The date on my collection slip is 3 working days from the date of application. I went there right after work. Not long after I arrived and got my queue number, I was called for my turn. I was so happy when I got my passport back with an approved single-entry visa.
Please be reminded that the visa application is subject to approval and the Consul has the right to ask for additional documents or call you, the applicant, for an interview if deemed necessary.
If your application was rejected, you can only apply again after six months from the date of rejection. Also, the embassy cannot inform you of the reason for rejection.
If your visa is approved, congratulations! Its validity is 3 months from the date of issuance. There is NO urgent visa processing service. And the earliest you can apply for a tourist visa is 3 months prior to entering Japan.
EMBASSY OF JAPAN
CONSULAR SECTION
NO. 11, PERSIARAN STONOR
OFF JALAN TUN RAZAK
50450 KUALA LUMPUR
TEL: 03-2177 2600
FAX: 03-2143 1739
OFFICE HOURS:
MONDAY– FRIDAY
8.30 A.M. – 12.00 NOON
2.00 P.M. – 4.00 P.M.
http://www.my.emb-japan.go.jp/
EMAIL : ryo@kl.mofa.go.jp
Embassy of Japan in Malaysia (Kuala Lumpur)
Cover Area: Kuala Lumpur, Selangor, Negeri Sembilan, Malacca, Pahang, Johor
Consulate-General of Japan (Penang)
Cover Area: Penang, Kedah, Perlis, Perak, Kelantan, Terengganu
Website: http://www.penang.my.emb-japan.go.jp/index.htm
Consular Office of Japan (Kota Kinabalu)
Cover Area: Sabah, Sarawak, Labuan
Website: http://www.kotakinabalu.my.emb-japan.go.jp/en/index.html
If you like this post, please don't hesitate to let me know by leaving a comment, subscribing to my list, or sharing this to social media.
*Disclaimer: This content may include affiliate links.